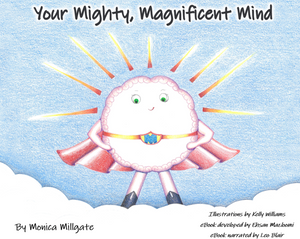 This interactive eBook/audio book, Your Mighty, Magnificent Mind, speaks to children and encourages them to notice and take control of their fears and to recognise whether they are really in danger or if it is their very imaginative mind that is telling them a scary or worrying story. Children will be reminded gently to love their mind and be kind to it while training on their journey with Mighty Mind.

By the end of the story, children will have a greater awareness of using logical thoughts to take over anxious thoughts while appreciating their wonderful creativeness all at the same time, engaging them to take part and make a plan during and after the story.
Instruction on how to download the eBook: 
Download the file
and hit play
It's as easy as that. 
A Mighty Magnificent Read!
A thoughtful and loving approach to helping kids (and big kids) befriend our Mighty Magnificent Minds. Includes some great techniques to put into action when we're not feeling great. Love it!
Thank you so much. We are so glad you loved this as much as we did.