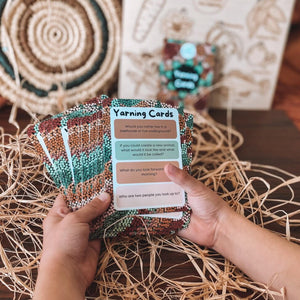 Yaali Creations - Yarning Cards
These cards have been developed as conversation starters for children of all ages and even adults too! Perfect for children who aren't confident in opening up or expressing their voice, opinions and emotions. These cards are perfect in an individual or group setting, both at home or in the classroom. 
About the Maker
These beautiful cards are created by Tanieka, a Wiradjuri woman from Dubbo NSW. Tanieka has spent time working in Koori Preschools, mentoring in different Aboriginal programs and facilitating young women's programs. 
Yarning cards
These card are amazing I use them constantly to begin conversations with the children. We sit around the fire and go around the circle answering the questions.
Thank you so much for your positive feed back Vicki. We are so happy you are loving these beautiful cards and are sparking conversations with the children.
If you have any photo please tag u on Instagram @inspired_natural_play_store
Yarning Cards
Wow how excited are we with our new Yarning Cards. We plan to use then to open each staff meeting. Having our rooms do a card and then mix the teams up so that they can do another card with someone they don't know as well.
The children love the cards and they have open up communication with children and educators.
Thank you so much. We are so glad you love them as much as we do. We would love to see some photos of your service using these cards. If your service is on Instagram please tag us @ inspired_natural_play_store