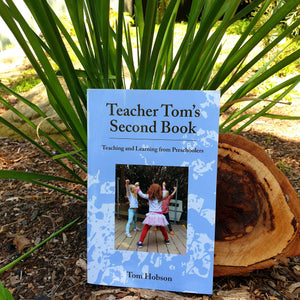 Teacher Tom's Second Book 

Picking up where Teacher Tom's First Book left off, Teacher Tom's Second Book is an insightful, sometimes breathtaking eye-opening look into the relationship between young children, learning, and the adults and institutions in their lives. Teavher Tom's ability to find great truth in small moments, coupled with his passionate defense of the rights of children and his critique of common practice, comes together to reveal a loving, child- centered world, one in which children are free to learn and grow, unencumbered by the dogma and nonsense of our culture's ever narrowing view of childhood. 
Fantastic book!
I have read Teacher Tom's First book and was very eager to check out the second one - and it's met all my expectations. A fantastic resource. One of those books you can open to any page and you'll find some golden nugget of wisdom or thought provoking idea. Teacher Tom is a true advocate for children's play and his stories of experience learning from children are relatable, honest and full of new ways of looking at childrens learning. For me, the two teacher tom books were life changing. I would recommend every teacher, parent, grandma, grandpa, aunty, uncle etc to buy this book!
Thank you so much for your feedback and recommendations Hannah. Teacher Tom is amazing long with his book.