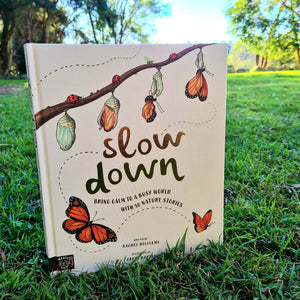 Bring calm to a busy world with 50 nature stories


All around us, nature is turning, growing…and working. Every day, hour by hour, magical transformations happen right in front of you. But it's not always easy to see them… Discover 50 nature stories, paused just long enough for you to watch them unfold. Then go outside and explore… and see what you find when you take the time to slow down.

Book Features:

Slow down long enough to watch a bee pollinate a flower, a butterfly emerge from a chrysalis and bluebells carpet a woodland floor.
50 nature stories that command calm and foster mindfulness.
Each story is told frame by frame, with facts and figures on more than 50 different species.
Hardback 
Recommended age 3 years +
Slow down - this has been on my wish list for some time.
This is such a lovely book; it has been on our wish list for some time. It is an extensive educational book packed full of information for all ages. We decided that we would choose pages to read to our preschoolers during some routine times. The illustrations are beautiful and the quality of the pages are second to none.
Sounds like a lovely experience with your preschoolers Jan!