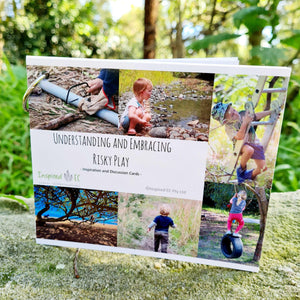 We are delighted to introduce the next card set in our range: Understanding and Embracing Risky Play! 
This beautiful set of 10 high quality, gloss cards will inspire you to think deeply about children's risk taking in their play and what it means for them. Unpacking Sandseter's Categories of Risky Play, we share the what, the why and the how, and encourage educators to reflect on their practices and their environments. 
These highly visual cards include: 
Great Heights
High Speeds
Dangerous Elements
Dangerous Tools
Rough and Tumble Play
Disappearing/Getting Lost
Each card features brilliant images from the early childhood sector. 
Risky Play Cards
The Risky Play cards compliment the Play Scheme cards we purchased last year. The cards give good prompts for educators to use when writing learning stories. They are beautifully presented and bound for easy use and storage.
Thank you so very much. We are behind grateful that you love our Risky Play cards and they are providing extra support for your educators. Thank you
Risky play cards
These have been very beneficial. I originally purchased 4 sets (1 for each of the services I work at) however I am now going to purchase 1 per room for each service for the educators to use as well as for parents to observe the benefits of risky play.
Wow, thank you so much. We are so glad you are enjoying the card sets and they are helping your service in many ways.