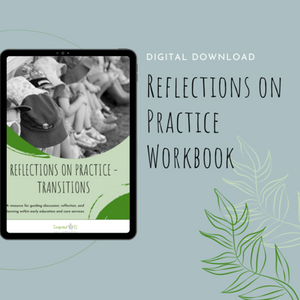 Our range of Reflections on Practice Digital Workbooks are the ideal tool for guiding discussion and reflection within the early childhood environment. Each topic highlights a common challenge for professionals.
How to use this resource
This resource is designed for early childhood educators of all qualification and experience levels to support them to engage in reflective practice, in order to grow as professionals.
Why this topic?

Throughout the average day, children may experience upwards of a dozen
transitions. Some of these transitions are essential, others perhaps not so much.
It is important that we reflect on the how and why of the transitions that occur
while children are in our care. Perhaps in an environment that is rich in
possibilities and that embraces long uninterrupted periods of play, we can
minimise the transitions, minimising the stress, frustration and time spent idle,
that is often experienced by both children and educators.
How is it sustainable?
Digital download - print when you are ready, if you need to