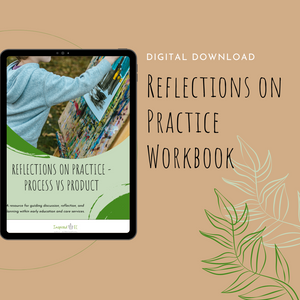 Our range of Reflections on Practice Digital Workbooks are the ideal tool for guiding discussion and reflection within the early childhood environment. Each topic highlights a common challenge for professionals. 
How to use this resource
This resource is designed for early childhood educators of all qualification and experience levels to support them to engage in reflective practice, in order to grow as professionals. 
Why this topic? 

This debate or discussion seems to be almost as old as time itself! It causes heated interactions among educators and is vehemently defended by those who love product focused craft and vented about by those believe strongly in the importance of the process We think it is an important area of our practice to reflect on and that perhaps when we stop and really examine our approaches, we may be inspired to make change!
Product Details
This product is a digital download. Please open on a computer rather than tablet or phone and take note of where you save your download.

10pages