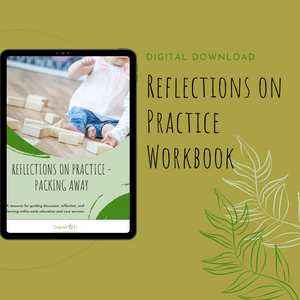 This resource is designed to support educators and services to deeply reflect on their practice, gain new perspectives and ways of thinking, and consider how their practice may evolve to better respond to the needs of children.
This resource explores the idea of packing away - why do we do it? what impact does it have on children's play?
How to use the resource:
Our intention is that you will print out this document and work through it with your colleagues. It is the perfect resource for facilitating discussions and collaboration during a team meeting or professional development day.
When you complete your purchase, a link will appear on your screen to download the document. Please take note of where your downloads save on your device.

What it includes:
This is a 12 page PDF which includes:
Stories and Insights
Delving Deeper (additional resources/links for more thinking)
Reflective Questions
Dreaming, Planning and Taking Action