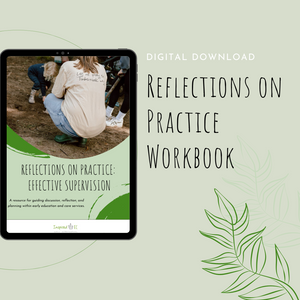 A resource for guiding discussion, reflection, and planning within early education and care services.
Welcome to Reflections on Practice - Effective Supervision. This resource is designed to support educators and services to deeply reflect on their practice, gain new perspectives and ways of thinking, and consider how their practice may evolve to better respond to the needs of children.
How to use the resource:
Our intention is that you will print out this document and work through it with your colleagues. It is the perfect resource for facilitating discussions and collaboration during a team meeting or professional development day.
Why this topic?
We know that many services struggle with supervision - it's one of our most requested training topic. Supervising children is vital to our role as educators, it's a regulatory requirement and getting it right can be the difference between children being engaged, content and thriving, or accidents, high stress and a little bit of chaos!
How is it sustainable? 

As a digital product, you only print what you need, when you need it! No postage, no travel, no production costs other than electricity.