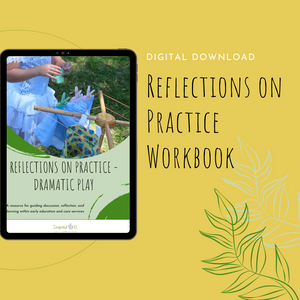 Our range of Reflections on Practice Digital Workbooks are the ideal tool for guiding discussion and reflection within the early childhood environment. Each topic highlights a common challenge for professionals.
How to use this resource
This resource is designed for early childhood educators of all qualification and experience levels to support them to engage in reflective practice, in order to grow as professionals.
Why this topic?

Dramatic play forms a large part of how children make sense of their world. It
can be a social, emotional, physical and cognitive experience and it doesn't
need to just take place in a "home corner" or dramatic play space. The way
in which we provide environments, resources and opportunities and our
attitudes and involvement, can have a huge impact on children's dramatic
play.
How is it sustainable?
Digital download - print when you are ready, if you need to!