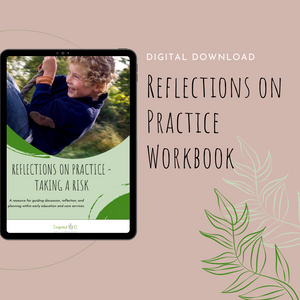 Welcome to Reflections on Practice - Taking a Risk.
We are Nic and Tash, the co-founders of Inspired EC and developers of this resource.
This resource is designed to support educators and services to deeply reflect on their practice, gain new perspectives and ways of thinking, and consider how their practice may evolve to better respond to the needs of children.
How to use the resource:
Our intention is that you will print out this document and work through it with your colleagues. It is the perfect resource for facilitating discussions and collaboration during a team meeting or professional development day. Should you have any questions at any time, please get in touch via the contact details at the back of this workbook.