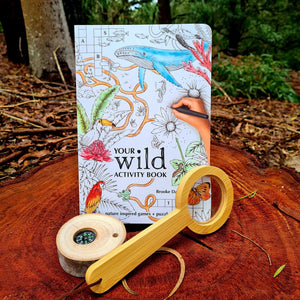 We are lovers of outdoor play here at Inspired Ec. We have created an amazing outdoor bundle for children to let their imaginations run wild whilst exploring the outdoors. 
This Outdoor Bundle is the perfect add on to children's outdoor play space. Also making a wonderful gift.  Purchasing in a bundle saves you some $ and ensures your children is supported in play.
In this Bundle you will receive:
Your Wild Activity Book: 
 Packed with all your most loved activities this book will keep the kids entertained for hours! With stunning illustrations on every page, this nature inspired activity book is a wonderful companion for travelling, car trips and school holidays.
Bamboo Magnifying Glass: 
For all the insect spotting, bug discovering, garden adventurers. These sustainable bamboo magnifying glasses are the perfect fit for little hands and curious hearts measuring approximately 20cm long x 8cm wide.
Compass: 
This amazing little hand held Compass is great for little hands to hold as they head out to explore.
Made from red gum wood, the compass is non toxic and approx. 6cm x 6cm