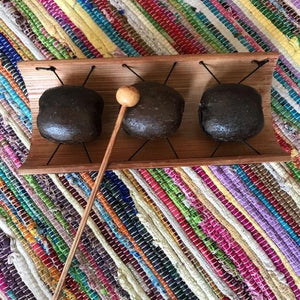 This
Natural Xylophone
is one cool instrument – not only in form, but function. A pure invitation to make music and have fun.
Made from all natural materials this xylophone will make a great addition to any playroom or classroom that is looking to encourage more music play and development. 
The recommended age for independent play of this instrument is 3 years + 
This xylophone is designed in Australia and made in Nepal under fair trade conditions. 
The instrument measures approximately 30 cm long, 7 cm high and 14 cm deep; and includes one wooden stick. 
Due to the handmade nature of this item, each can slightly vary in colour and finish to that pictured.