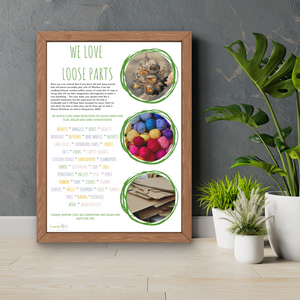 We are delighted to release our updated "Loving Loose Parts" Poster. 

Why did we create this poster? 
During our many years of working in early childhood services, we have been regular requesters or loose parts "stuff" from families. We would often make signs or send out emails to families asking for their odds and ends. Lots of educators told us - we need a sign like that! So, we created a poster. And, in 2023 we have updated that poster. 
The poster includes a quote from Simon Nicholson which explains the value in this type of play, as well as a list of items for donation that would be welcomed.
What can you do with it? 

Display the poster in your entry, or in a room or near the front door. Or, you could create a "Loose Parts Drop-off Station" where families can add items to baskets or boxes, ready for you to use in your program. 
You can display the poster as is, laminate for extra protection, or frame it. 
What are the specifics?
Your poster is printed in-house using a commercial grade printer on high quality A3 Poster Paper. 
How is it sustainable? 

Print to order (reduces waste)
Printed and packaged in-house (reducing travel miles)
Recycled/Reusable/Sustainable packaging where possible. Posters are typically shipped in tubes (which are a great addition to your loose parts play!!) 
Great resource
Having it on the entrance door has helped us to gain more loose parts donations from parents. It is eye catching
Wow, that is wonderful Sandi.
Thank you for your positive feedback. We are so glad you love the Loose Parts poster.
Have you also seen your Loose Parts Discussion Card Set that work so well with the posters.