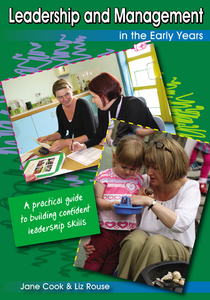 This book has been written for all leaders and aspiring leaders with responsibility for improving the quality of early years settings. It brings together current research and effective practice to provide you with the knowledge, understanding and skills you need to motivate and get the best from your team, identify and develop your personal leadership style and clarify your vision for quality.


The National Quality Framework recognises the importance of strong and effective leadership to build quality programs for children and families. It requires all early childhood education and care programs to have access to a nominated educational leader to lead the development of the curriculum and ensure the establishment of clear goals and expectations for teaching and learning.

This book:

takes a common sense approach to leadership that you can apply to your everyday practice
supports you in setting realistic but challenging goals and solving problems creatively
includes chapters on the reflective leader, the importance of vision, building a team, supervision, and change and action planning
It is an essential resource for all leaders and managers working in early years settings.

Product Details
Author: Jane Cook, Liz Rouse
Size: 300x210mm
Format: Paperback
Pages: 80
the checkout process.