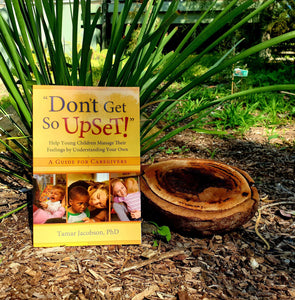 Emotions can have a domino effect in the classroom when teachers' emotional states influence their interactions with students and alter the children's moods. 
Dont Get So Upset!
 will help child care providers see that it's not about the child as much as it's about their own emotions. It will show them how to express themselves in appropriate ways so that children will learn to do the same. This book approaches the subject in a practical, personal, and self-helping manner that will ultimately assist you in supporting children's emotional development.
Dont Get So Upset!
 explains early childhood behaviour management, explores anger-related feelings, and describes how to accept the negative and positive aspects of all our emotions. Through these topics, you will be able to uncover your own feelings as you manage children's behavior and discover strategies that work in your classroom.
Contents
Preface
Introduction
Chapter 1: We Create Positive Emotional Environments for Children
Chapter 2: We Understand How We Feel and Why
Chapter 3: We Understand the Power of Our Anger
Chapter 4: We Face Our Feelings of Powerlessness
Chapter 5: We Claim Our Own Childhood Traumas
Chapter 6: We Use Discipline, Not Punishment
Chapter 7: We Can Change Our Emotional Scripts