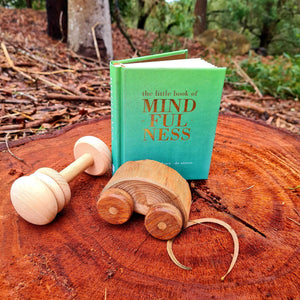 The Baby Bundle is the perfect gift for new times mums and dads. Purchasing in a bundle saves you some $ and ensures that perfect gift. 
In this Bundle you will receive:
The Little Book Of Mindfulness:

More and more of us are suffering from the stresses and strains of modern life. Mindfulness is an increasingly popular discipline that can not only help alleviate the symptoms of stress, anxiety and depression brought on by the pressures of our daily existence but can actually bring calm, joy and happiness into our lives.


Baby Keepsake Rattle: 
A beautiful Keepsake Baby Rattle is a stunning addition to your baby's wooden toy collection. These rattles are a smooth and SAFE source of stimulation. The Keepsake Baby Rattles have been carefully and lovingly designed to provide a lovely soft, wooden rattle sound with an easy to grasp shape.
Rustic Bug Car: 
A beautiful handmade wooden car - that looks like just like a little bug!  A perfect alternative to plastic! Every element of this has been sustainably sourced and finished with a sanding that makes of soft for little hands!