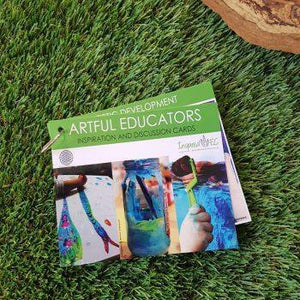 Are you an educator who wants to build your knowledge and confidence with visual art?
We've always known the value of children having opportunities to explore art materials but were not always sure what materials to provide and how to support children! 
So, when the opportunity came to work with artist, art educator, and early childhood professional Melissa Underwood, we jumped at it! Melissa developed these amazing cards to support educators artistic skills, sensibility, arts pedagogy and inspire discussion, ideas, and creative and reflective thinking.
They provide a brief overview of artistic developmental theories and approaches, basic art mediums with intentional teaching strategies, DIY tips, reflective prompts, and practical exercises for educators to explore either on their own or in groups.

Product Details:
Cards featured include: 
- Artistic Development
- The Artful Toolbox
- Clay
- Acrylic Paint
- Charcoal
- Pencil
- Finger Painting
- Ink
- Natural Materials

Set of 11 high quality wipe clean colour cards approx 10cm x 12cm, ring bound
Great for provoking discussion and reflection
Purchased these to share with my team, to reflect on our own relationships with art and how these influence our practice with children.
Thank you Jennifer.
We ae so glad you love our card sets and that these have helped your team in many ways