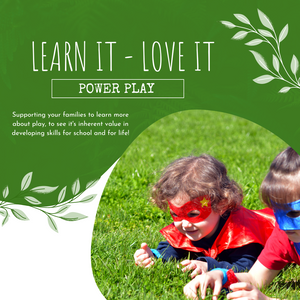 What is the "Learn it - Love it" series?
In 2022, we teamed up with internationally renowned play guru (author, podcast host, educator and more) Jeff Johnson to develop a range of support packages that early education and care services anywhere in the world can use to share the benefits of various types of play and practice with families - highlighting how these support children to prepare for school (and for life!) 

When families better understand practices in our early childhood services, they are far more likely to love them - to appreciate the benefits to their child's development and wellbeing.

The best part is - once you purchase the package, you can provide access to this valuable information to all of your families. Yep, purchase once and utilise this resource to support your program again and again.

Each package includes:
A professional quality, engaging 2-3 minute video
A printable information sheet (can be printed or shared electronically)

Why Power Play?
Children love to feel powerful in their play - and yet sometimes this play can look unpleasant or not as we expected.


Terms and Conditions
By purchasing this package, you agree to the following:
Content will only be distributed to families within your service
Content will not be distributed via public, online channels (e.g. You Tube, Facebook)
Content will not be distributed without the appropriate branding/recognition

How it works
1. Add to cart
2. Complete the checkout process
3. Download your video file and PDF
4. Provide to your families
5. Reap the benefits of families who feel knowledgeable about what matters to your program