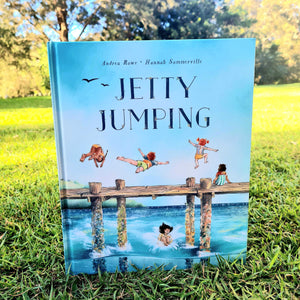 While Milla's friends take big, brave jumps off the jetty, Milla stays on the blistering wood, scared of what lurks below. But when Milla accidentally falls off the edge, she discovers the beauty of the deep, dark sea - and her summer changes forever.
 
Andrea Rowe and Hannah Sommerville perfectly capture the challenges of childhood - and the joy of letting go - in this homage to summer.
About the Author

Andrea Rowe had a childhood fear of jetties and was scared of falling through the cracks and into the murky depths below. Now she's all grown up Andrea thinks jetties are the best playground a coast kid can have, and she bravely leaps off jetties and swims beside barnacled pylons with her two adventurous kids after school.

Andrea is a writer who lives with her two kids and park ranger husband in a beach shack in the dunes on the Mornington Peninsula. She has a BA in Media Relations and Grad Dip in Crisis and Issues Communications and she's very good at playing scrabble.
Suitable for ages: 3+ years
Number of Pages: 32 pages
Format: Hard back
Illustrated by Hannah Sommerville
Adore this book!
Stunning illustrations with engaging language and a delightful story of quiet bravery! We adore this story
Oh thank you Kylie
We are so glad you love this story. It is such a beautiful book. A lot of work and thought go into selecting these beautiful books that we stock and receiving feedback like this is amazing
Thank you