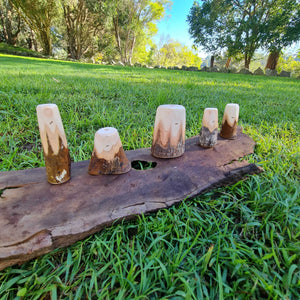 Unique and quirky little 'Tree People'... each have their own style and character.
Created from hardwood branches, each tree person is hand-carved with two little eyes lovingly burned into place.
Each piece is individually handcrafted from natural camphor therefore the unique wood grains and size will vary between items. This adds to the character and shows that each piece is made, by hand, just for you! Please note that as each set is unique, the tree people may vary from those pictured.
Ranging in size from approx. 5cm to 9cm, each family of 5 will include a range of characters, widths, and heights.

Parental supervision is required at all times. Please check your items before use and discard if they show any signs of damage.
Suitable for ages 3+