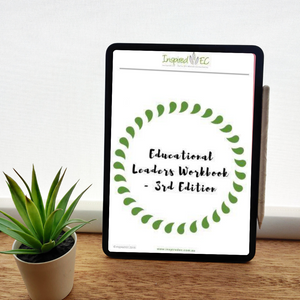 We are delighted to release our Educational Leaders Workbook (3rd Edition). This practical digital download compliments our book "Inspire, Communicate, Motivate: The Role of The Educational Leader" and provides printable tools and templates that educational leaders can use to record the plans, progress and reflections of their role as well as challenges and other tools to use with educators. 


It includes: 

- The Vision
- Monthly Plan and Reflection
- Annual Reflection
- Educator Goals
- Educator Self Assessment
- Educator Journey
- Personal Philosophy Development
- Program Checks
- Educator Challenges
- Professional Development Review
- Record of Mentorship

The digital download is able to be printed and used in whatever way works for you!
Educational Leaders Workbook - 3rd Edition
Educational Leaders Workbook - 3rd Edition
Hi Marriam,
Thank you so much for the wonderful feedback
Educational Leaders Workbook 3rd Edition
I think this document is a great resource to guide newly appointed Educational Leaders , as it can be rather daunting as I did experience. I researched a number of spaces to give me a little direction as there are no really clear outlines to follow and within the limited time allocated to perform the role effectively.
Thank you so much for your ongoing support.
Thank you so much. We are so grateful our Educational Leaders Workbook has provided you with the extra support in your role. Thank you again