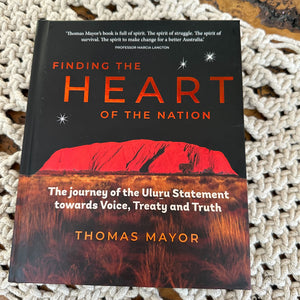 This is a book for all Australians.
Since the Uluru Statement from the Heart was formed in 2017, Thomas Mayo has travelled around the country to promote its vision of a better future for Indigenous Australians. He's visited communities big and small, often with the Uluru Statement canvas rolled up in a tube under his arm.
Through the story of his own journey and interviews with 20 key people, Thomas taps into a deep sense of our shared humanity. The voices within these chapters make clear what the Uluru Statement is and why it is so important. And Thomas hopes you will be moved to join them, along with the growing movement of Australians who want to see substantive constitutional change.
Thomas believes that we will only find the heart of our nation when the First peoples – the Aboriginal and Torres Strait Islanders – are recognised with a representative Voice enshrined in the Australian Constitution.
'Thomas's compelling work is full of Australian Indigenous voices that should be heard. Read this book, listen to them, and take action.'
– Danny Glover, actor and humanitarian