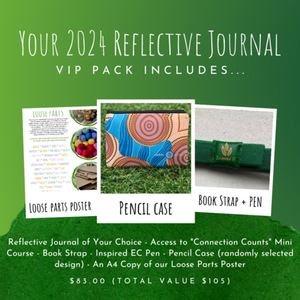 Important order information
Please note orders placed before Friday 24th November 2023 will be shipped by Monday 18th December 2023. Any orders placed after Friday 24th November may not be delivered until the New Year. 
We have created a LIMITED number of VIP Reflective Journal Packs for 2024 too! What does that mean? What do you get? Why would you want it??
The VIP Pack Includes:
A Reflective Journal

 

of your choice (we recommend checking the individual listings of the journals to see the content of each journal before selecting your VIP pack variant) valued at $58
A custom book strap.

 

These stunning straps (in Inspired EC green!), custom-made by Shannon at Typo Flora, are a great way to keep your journal together - particularly if you have a habit of slipping loose notes in it - and hold your pen!
An Inspired EC Ecopen. These pens are brilliant! They use 89% less plastic than a regular pen and are compostable (paper body) and recyclable (ink tube and nib). They feature non-toxic, water-based black ink and FSC Certified paper. Once your Ecopen is finished, simply snap it in half and separate the plastic ink tube and metal nib from the paper. Place paper body in the compost or recycling bin, and the ink tube and metal nib in the recycling bin!
Connection Counts Mini Course.

 

You will receive a card in your VIP pack with details on how to access your self-paced online course, in our Inspired Learning Community.

 

This mini course will share simple strategies for building and maintaining strong relationships with children, and support learning about the benefits of doing so.

 

This course is valued at $27
Pencil Case

 

We have sourced these beautiful neoprene cases featuring Authentic Aboriginal artwork in a variety of patterns. (Patterns are chosen at random - we love a surprise!) Valued at $20
An A4 Loose Parts Poster

 

Our loose parts poster is a favourite among many. We've created a special A4 Version just for our VIP packs. These are great for displaying in your service to highlight the value of loose parts and also to request donations of loose parts!
Why get the VIP pack?
This pack is for those seeking a little something "extra"! And... those who love good value. Valued at over $105, this pack really delivers!

Your VIP Pack will be lovingly packed in our Lake Macquarie office, in sustainable packaging.
Please note that stocks are strictly limited