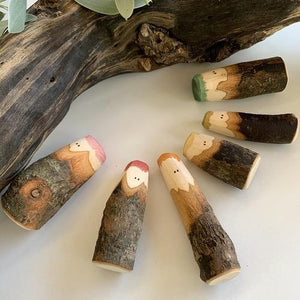 Unique and quirky little 'Tree People'… each have their own style and character. Just like nature intended. 
Created from hardwood branches, each little TREE PEEP is hand carved, then two little eyes are lovingly burned into place. 
Product Details:
Ranging in size from 5cm to 9cm each family of 6 will include a range of characters, widths and heights
The EARTH RAINBOW collection also includes Gemstones, Log slices and the EcoColour Watercolour Kit.

Each set of Tree People will be unique to you. No two tree people are ever the same, as they each vary in their own character, size, shape and colour.